Racetrack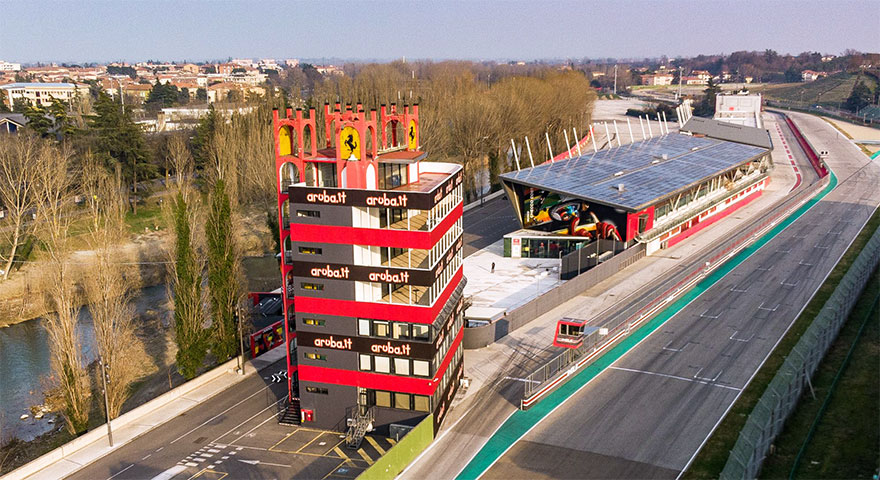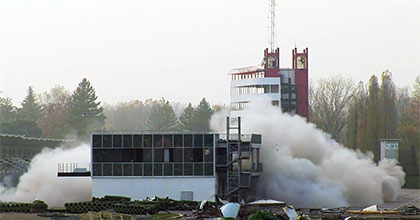 On 19th November 2006 at 4:14pm, the old pit building was demolished using 700 sticks of dynamite. 3,000 people silently crowded the Rivazza hill to watch the explosion.
The circuit and its adjoining facilities underwent a renovation and upgrading plan that came to an end in September 2007. The plan was overseen by a well-known German architect, Hermann Tilke, who specialized in the construction of car racing circuits.
The pit building was completely rebuilt: now there are 32 pits (as opposed to the previous 18). A much more spacious paddock and a new Race Control Centre were also created.

These works were followed by other interventions that were carried out at a fast pace during the summer of 2008, aimed at redefining the pit lane entrance layout, broadening the Piratella corner's run-off area, and re-asphalting the part of the track running from the pit exit all the way to the Tamburello Corner.
CARACTERISTICS OF THE TRACK
Track length: for cars Km 4,909 – for motorcycles Km 4,936
1st lap length: for cars Km 4,609 – for motorcycles Km 4,724
Direction: anti-clockwisw
track length: it ranges from 15 m. to 10 m.
Maximum speed: cars Km/h 330 – motorcycles Km/h 290
Corners: 9 right-hand and 13 left-hand curves
Marshals' locations: 22 main and 60 secondary locations
Cameras: 18 located along the track
---