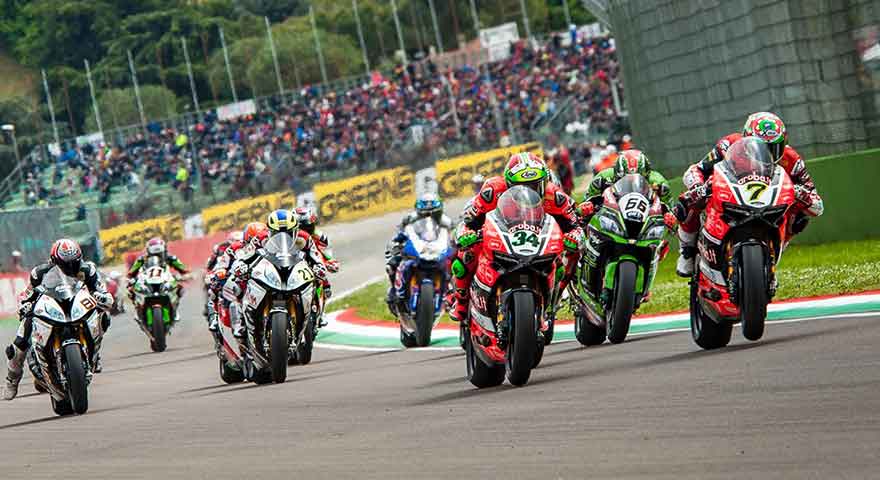 From 11 to 13 May Imola hosts the 5th round of the Superbike World Championship.
In recent seasons Imola has become a regular fixture on the WorldSBK calendar and it produces exciting racing at the Autodromo Internazionale Enzo e Dino Ferrari, a historical track dating back to 1950.
Keep yourself updated on Autodromo Imola
Buy your ticket on Ticketone
---
FAQ – Frequently Asked Questions
1) Where can I get information about my stay in town?
Contact the central IAT Office (Tourist Information Office) tel. +39 0542.602207 iat@comune.imola.bo.it
From Friday to Sunday the IAT office is open all day long at racetrack area (Piazzale Leonardo da Vinci)
The staff speak both English and French
2) Is there a camping area for the Superbike?
Yes, at Centro Sociale Tiro a Segno, via Tiro a Segno 2 (next to the main entrance of the racetrack).
There are showers, toilet services and electric hookups. A section of this area is for campers.
Daily maximum prices are as follows:
• tents up to 4 people € 9.00 – more than 4 people € 12.00
• camper € 16,00
• roulottes € 15,00
• cars € 8,00
• motorbikes € 5,00
• electric hookups € 6,00
+ € 5.00 per person
The camp site is open 24 hours a day (from 10th May at 15.00 to 13th May at 22.00)
For information and reservations please call +39.338.9569414
3) Are there any parking spaces close to the racetrack during the Superbike?
Yes, there are and daily fees are as follows:
coaches € 30,00
campers € 20,00
caravans € 15,00
cars € 8,00
motorbikes € 5,00
4) Is it possible to book parking spaces for coaches?
Yes, there are public areas for coaches.
For more information contact the IAT office tel. +39 0542.602207 iat@comune.imola.bo.it
5) How much are the tickets for the Superbike and where can I buy them?
There are different types of tickets for the race in Imola Racetrack.
It's possible to buy tickets in advance through the official website of Ticketone or directly in Imola, at the authorized ticket booths, in the days of the race
6) How far is the racetrack from the train station and the bus station?
The train station is a few meters from the bus's one.
On foot it's a 20 minute walk to the main entrance (viale Dante – stands area). Once you exit the train station you have to go straight for about 1,5 km. and at the end of this road there is the main entrance
---