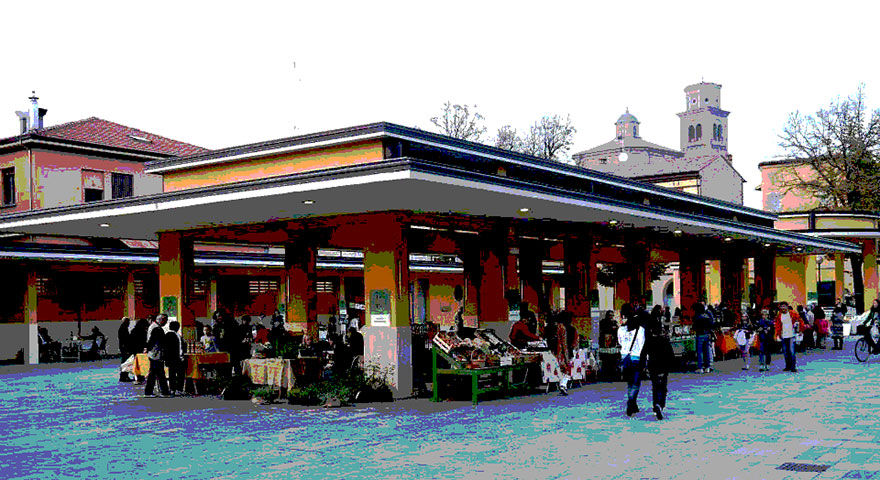 In economic terms the word market indicates the place (including figuratively) and time in which trade of various sorts takes place.
Markets are commonly dated to the Middle Ages although references to them in the Roman era do exist.
Over the years markets and fairs have managed to remain as popular as ever with their taste of a not too distant past and the last few years has seen a rise in popularity of purchases at market stalls.
Markets in Imola:
STREET MARKET
(Clothing, plants, accessories for the home)
Piazza Matteotti & piazza Gramsci – viale Rivalta
Tuesday – Thursday – Saturday   8.00am to 1.00pm
FRUIT & VEGETABLE MARKET
(Fruit & vegetables, cheese)
Viale Rivalta 10/12
Tuesday – Thursday – Saturday
from 01/11 to 15/04  8.00am to 10.15am (Saturday 8.00am to 11.00am)
from 16/04 to 31/10  7.30am to 9.45am (Saturday 7.30am to 10.30am)
IL BORGHETTO – Covered Market
(Grocer, bar, dressmaker, dry cleaners, shoe repair, gift & fancy goods shop)
Viale Rivalta
from Monday to Saturday
From 01/06 to 31/08  6.30am to 1.00pm
From 01/09 to 31/05  6.30am to 1.00pm (Friday also 4.00pm to 7.00pm)
CAMBIO – Biological covered market
(biological products)
Centro Sociale Zolino – via Tinti 1
Wednesday 4.30pm to 7.30pm (3.30pm to 7.00pm during winter time starting from September 15th)
MERCATO DELLA TERRA
(local producer chosen by slow food)
Viale Rivalta 10/12
Friday 3.30pm to 6.30pm (from Mid-September to Mid-March)
& 4.00pm to 7.00pm (from Mid-March to Mid-September)
IL MERCATINO DEI PRODUTTORI AGRICOLI
(CIA local producer)
Parking Di Vittorio – via Fanin 7
Thursday 4.30pm to 7.00pm (from May to October – except August 15th)
COS'ANTICHE – Antique & flee market
(Furniture; gifts & fancy goods)
Arcade of the City Centre – via Emilia
4th Saturday of each month    9.00am to 6.00pm (no June, July & August)
STREET MARKET AROUND IMOLA
(Clothing, plants, accessories for the home)
Pedagna (via Donizetti & parking) – Saturday from 3.00pm (no July & August)
Sesto Imolese (via San Vitale) – Friday from 8.00am
---