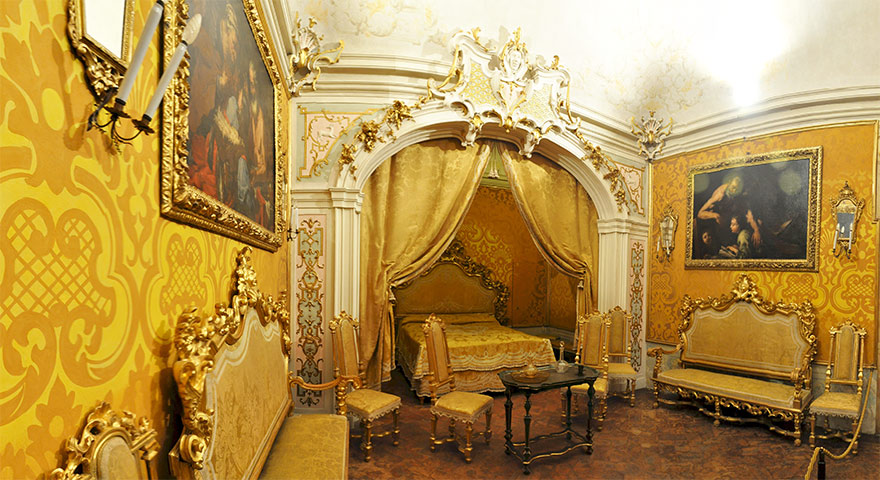 The last descendent of the Tozzoni family, Sofia Serristori Tozzoni, donated the building to the town in 1981. This noble home, which has been perfectly conserved, not just architecturally but also in the furnishings, offers the visitors a clear view of the life of a 18th century noble family in a provincial town.
The palace was renovated between 1726 and 1738 and probably the project was designed by the architect Alfonso Torreggiani from Bologna under the supervision of Domenico Trifogli, a Ticinese architect.
On exhibition is a rich and important collection of paintings, art objects, furnishings, family souvenirs and a collection of ethnic items which permit the visitors to entirely appreciate the refined atmosphere, such as that of the baroque style of the upper floors. On the lower floors visitors will find a juxtaposition of styles due to the various modifications throughout the centuries.

Mini museum guide in PDF format
---
Tozzoni Palace
via Garibaldi 18
tel. 0542.602609 Civic Museums
fax 0542.602608
e-mail: musei@comune.imola.bo.it
web: museicivici.it
The site offers access to disable with reservation
Opening hours (until 31st of December 2021):
Friday 3.00pm to 7.00pm
Saturday & Sunday 10.00am to 1.00pm and 3.00pm to 7.00pm
Admission with fee
Currently, in relation to the covid-19 emergency, access will be regulated – 10 visitors per hour
---
Last Updated: 17/09/2021