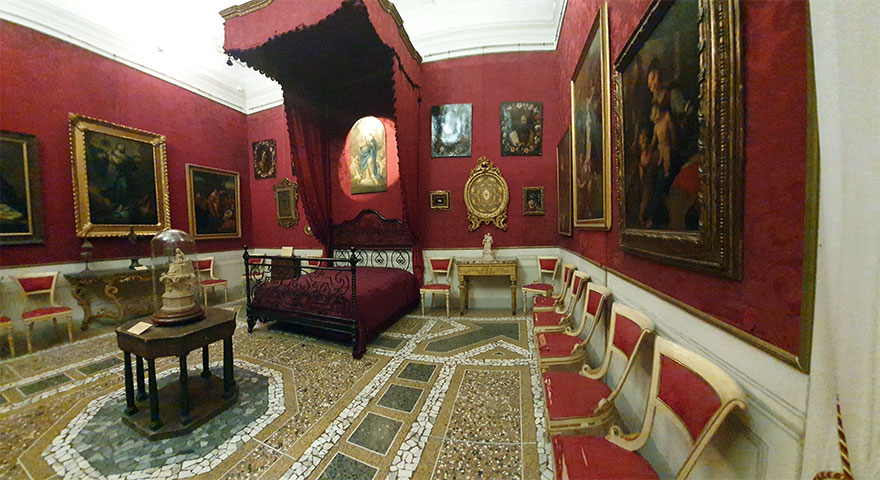 First opened in 1962, the museum now houses over two thousand works dating from the 9th through to the 21st centuries.
The Red Apartment, the Pius VII gallery and the Green Apartment form a genuine house-museum created and lived in by the popes Pius VII and Pius IX during their offices as bishops of Imola. The art gallery, with its rich collection of paintings from the 14th to the 19th century, the theme rooms with the collections of liturgical fabrics, the numismatic collection, the works of contemporary sacred art, the collection of terracotta artwork and the sacred silverware rooms all constitute a regional unicum.
In the visit itinerary there is also the Carriage Museum where two sumptuous eighteenth-century sedans owned by Imola bishops can be admired next to nine neoclassical liveries originally worn by valets and coachmen serving in the bishop's palace.
From May 2021 also the Monsignor Giovanni Signani historical garden is part of the visit; it is a green space in the historic center with an extraordinary natural heritage
---
Diocesan Museum & Art Gallery
piazza Duomo 1
tel. 0542.25000 (extension 7)
e-mail: [email protected]
The site offers full access to the disabled
Opening hours:
Tuesday and Thursday 9.00am to 12.00pm & 2.00pm to 5.00pm
Wednesday 9.00am to 12.00pm
Saturday 10.00am to 1.00pm & 3.00pm to 7.00pm
Sunday 3.00pm to 7.00pm
Free offer admission
---
Last Updated: 25/05/2023