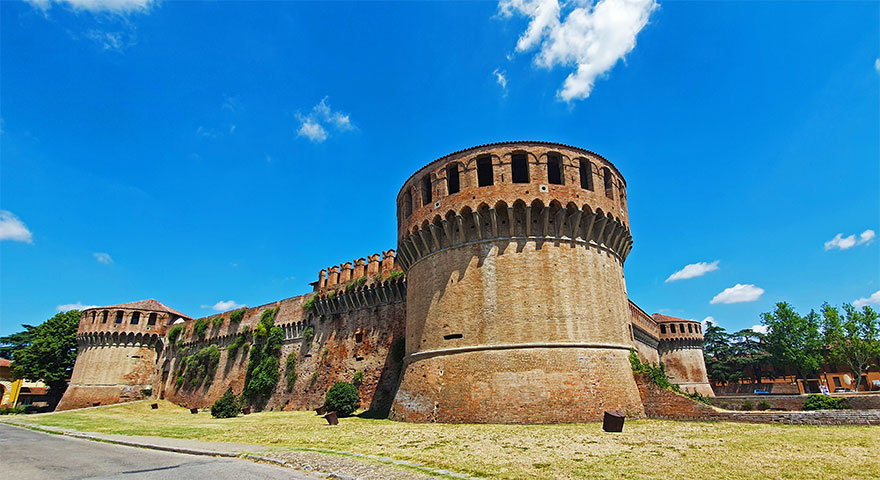 The fortress, a superb example of a fortified architecture of the Medieval and Renaissance period, was founded in the XIII century.
Remains of the antique period can still been seen: the doorway, with a pointed arch, the tower with the dungeons, the suggestive areas of the ground floor, and the terrace from where visitors can take a breath-taking view of the town and the surrounding hills. The original square tower is still visible today emerging from the centre of the round south-west tower.
This fortress was re-modelled between 1472-1448 in order to enforce its defence system against firearms. It was under the rule of the Sforza family, lords of Imola, that part of the walls, the circular corner towers and the embrasures decorated with the coat of arms of the Riario-Sforza family were added. Furthermore a residential area was added, known as the 'Palazzetto del Paradiso', which later hosted the prisons between the XVI and XX centuries.
The fortress was re-opened to the public in 1973. It hosts a collection of ceramics and weapons, all restored to their antique splendour, and correlated with clear captions describing the objects.

Mini museum guide in PDF format
---
Fortress – rocca sforzesca
piazzale Giovanni dalle Bande Nere
tel. 0542.602609 Civic Museums
fax 0542.602608
e-mail: [email protected]
web: museicivici.it
The site offers access to disable with reservation
Opening hours:
Friday 3.00pm to 7.00pm
Saturday & Sunday 10.00am to 1.00pm & 3.00pm to 7.00pm
Special openings:
Easter Monday, April 25th, May 1st, June 2nd, August 13th (San Cassiano, patron of the city), August 15th, November 1st, December 8th, December 26th and January 6th from 10.00am to 1.00pm & from 3.00pm to 7.00 pm.
Closed on December 25th, January 1st and Easter.
Admission with fee

---
Last Updated: 26/06/2023